End Point Management
Holistic unified endpoint management and security

Patch Management

Mobile Device Management

Remote Access Software
  End Point Management
Desktop Management Software
Desktop Central is a unified endpoint management (UEM) solution that helps in managing servers, laptops, desktops, smartphones, and tablets from a central location. It's a modern take on desktop management that can be scaled as per organizational needs.
Desktop Central augments a traditional desktop management service, offering more depth and customization. Automate regular endpoint management routines like installing patches, deploying software, imaging and deploying OS. In addition, it also lets you manage assets & software licenses, monitor software usage statistics, manage USB device usage, take control of remote desktops, and more. As a desktop manager, Desktop Central supports Windows, Mac and Linux operating systems. Manage your mobile devices to deploy profiles and policies, configure devices for Wifi, VPN, email accounts, etc. Apply restrictions on application installs, camera usage, browser and secure your devices by enabling passcode, remote lock/wipe, etc. Manage all your iOS, Android and Windows smartphones and tablets from a single console.
Secure your network by automating patch deployment for Windows, Mac, Linux and Third Party Applications.
Deploy Software to all the endpoints within your network in just a few clicks using 4,500+ pre defined application templates.
Configure, manage and secure mobile devices centrally using mobile device management
Strengthen endpoint security by regularly assessing vulnerabilities, monitoring browsers, controlling applications and devices in your enterprise network.
Automatically image and deploy OS on Windows computers, along with the installation of required drivers and applications using OS deployment.
Manage software and hardware assets within your network and track license and warranty details effortlessly.
Troubleshoot remote desktops with multi-user collaboration, file transfer, video recording, and more.
Unify endpoint management with a similar approach towards managing both mobile phones and Windows 10 devices.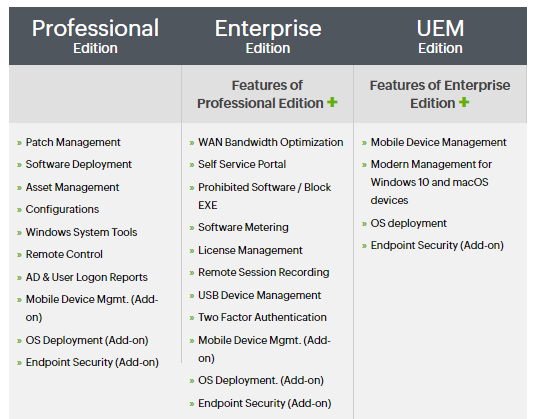 Mobile Device Management (MDM) software
ManageEngine Mobile Device Manager Plus is a comprehensive mobile device management solution designed to empower your enterprise workforce with the power of mobility, by enhancing employee productivity without compromising on corporate security. It lets you manage smartphones, laptops, tablets, and desktops and multiple operating systems such as iOS, Android, Windows, macOS, and Chrome OS.

360° support for enterprise mobility
Quickly bring devices under management
Easy enrollment and authentication for BYOD and corporate devices.
Intuitive dashboard with an easy to use interface
Management has never been simpler with an overview of the entire device ecosystem in your organization.
Ensure devices are compliant with policies
Configures profiles to enact policies for Wi-Fi, VPN and other parameters.
Troubleshoot devices in real time
Remotely control and view mobile devices and troubleshoot issues on them.
Seamless app distribution and management
Secure and manage the applications running on devices in your network with mobile application management.
Foolproof security for corporate data
Fortify enterprise security with mobile security management
In case of loss/theft, geographically locate the device and wipe its data to ensure corporate data safety.
Detect and report high risk and non compliant devices
Easily discover jail-broken and rooted devices within your organization's network.
Safeguard your network with role-based device usage permissions and customizable access to corporate accounts.
Protect enterprise email
Provide convenient and secure access to your organization's email, in line with Conditional Exchange Access (CEA)
Share documents to mobile devices with just a few clicks
Remotely distribute and manage documents on the mobile devices.
Securely view and save documents
Access documents only using the trusted apps on the device.
Prevent third party cloud backup
Restrict third party apps from accessing and backing up distributed documents.
Documents once distributed to devices get automatic updates when newer versions are available.
Over 10 different document formats can be distributed and managed.
Manage enterprise owned and private devices
Separate corporate and personal information in each device so that there is no compromise on data integrity
Enterprise data is stored in an encrypted container
Prevent threats from accessing corporate resources on the device.
Give selective access to corporate accounts like email, customize Wi-Fi based on employee needs.
Choose to either allow or ban which commercial apps can be carried on to the company premises by