Network Operation Management
Network Monitoring Software

Server and Application Monitoring software

Bandwidth Monitoring & Traffic Analysis

Network Configuration Management

Firewall Configuration & Log Management
        Network Operation Manager 
ManageEngine OpManager, the trusted network monitoring software.
Businesses rely on networks for all operations. Hence, network monitoring is very crucial for any business. Today, networks span globally, having multiple links established between geographically separated data centers, public and private clouds. This creates multifold challenges in network management. Network admins need to be more proactive and agile in monitoring network performance. However, this is easier said than done.
Introducing ManageEngine OpManager, an easy-to-use, and affordable network monitoring solution. It monitors network devices such as routers, switches, firewalls, load balancers, wireless LAN controllers, servers, VMs, printers, storage devices, and everything that has an IP and is connected to the network. ManageEngine OpManager continuously monitors the network and provides an in-depth visibility and control over it. In case of a fault, you can easily drill down to the root cause and eliminate it before operations are affected.
Network Management
Network management is the process of managing a network for fault and performance using various tools and technologies to keep up with the business requirements. The objective of network management is to achieve an error free network. In today's environment, multiple network monitoring solutions, network monitoring tools or network management tools are employed making the whole process a complex one.
With networks scaling across wired , wireless, and virtual IT environments, network management only becomes increasingly complex putting network admins in need of all the help they can get. With a myriad of network management solutions available in the market, it is important to zero in on the right one. Among these network management solutions available, a reliable and affordable network management solution is your best bet to streamline network management.  Comprehensive network management solutions are to be preferred as they help reduce the dependency on multiple tools to manage networks.
Network management solutions – Four critical aspects
The biggest challenge with today's network management solutions, is to proactively identify faults before it impacts end-users. ManageEngine OpManager, the comprehensive network management system, detects, isolates and troubleshoots faults, raises alarms to remediate faults quickly.
ManageEngine OpManager, the integrated network management software 
ManageEngine OpManager is a comprehensive network management tool with which you can monitor the performance, availability and health of al your network devices. OpManager uses the SNMP/WMI/CLI network protocols to fetch performance data from network deivces which is then displayed on its web client.
Using OpManager network management solution you can:
Set multiple thresholds for performance metrics.
Get proactively notified for threshold violations and faults through email and SMS.
Process SNMP traps and syslogs and raise alerts.
Automatically log alarms as tickets into a service desk software.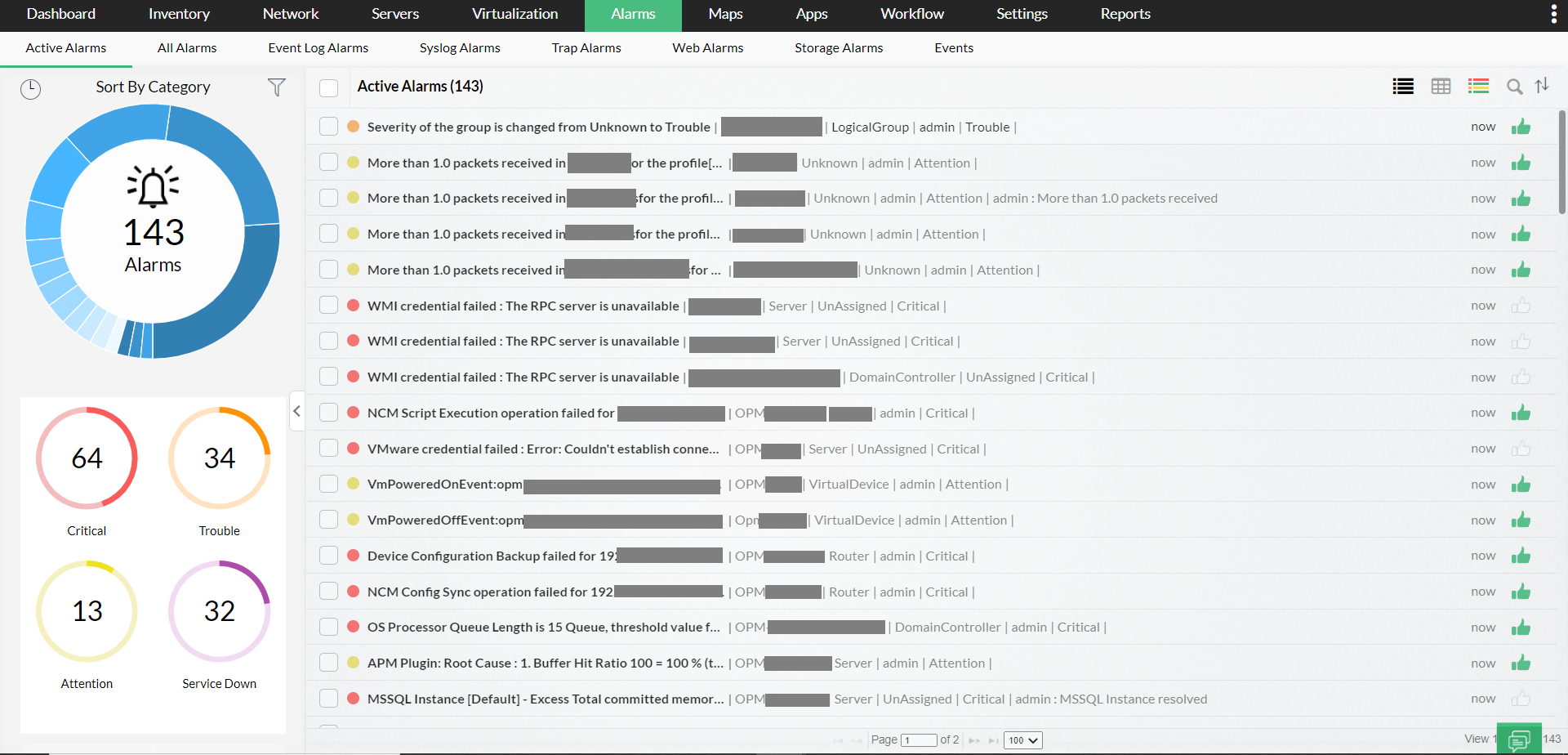 Network Performance Management
For all network management software, performance management involves troubleshooting faults either through a manual or automated approach so that the performance of the network is restored to its original or improved condition. OpManager offers basic and advanced network management service to fix faults that degrade network performance. Manage network, server and virtual machines effortlessly with ManageEngine OpManager.
OpManager network management solution troubleshoots network faults through:
Inbuilt tools – OpManager, the network monitoring software, offers a variety of tools such as ping, traceroute, MIB browser, remote control, and more to troubleshoot basic performance issues.
NCM module – OpManager includes a network configuration management module to manage configuration changes. With this, it is easier to automate configuration backups, adhere to compliance policies, and detect network changes in real time.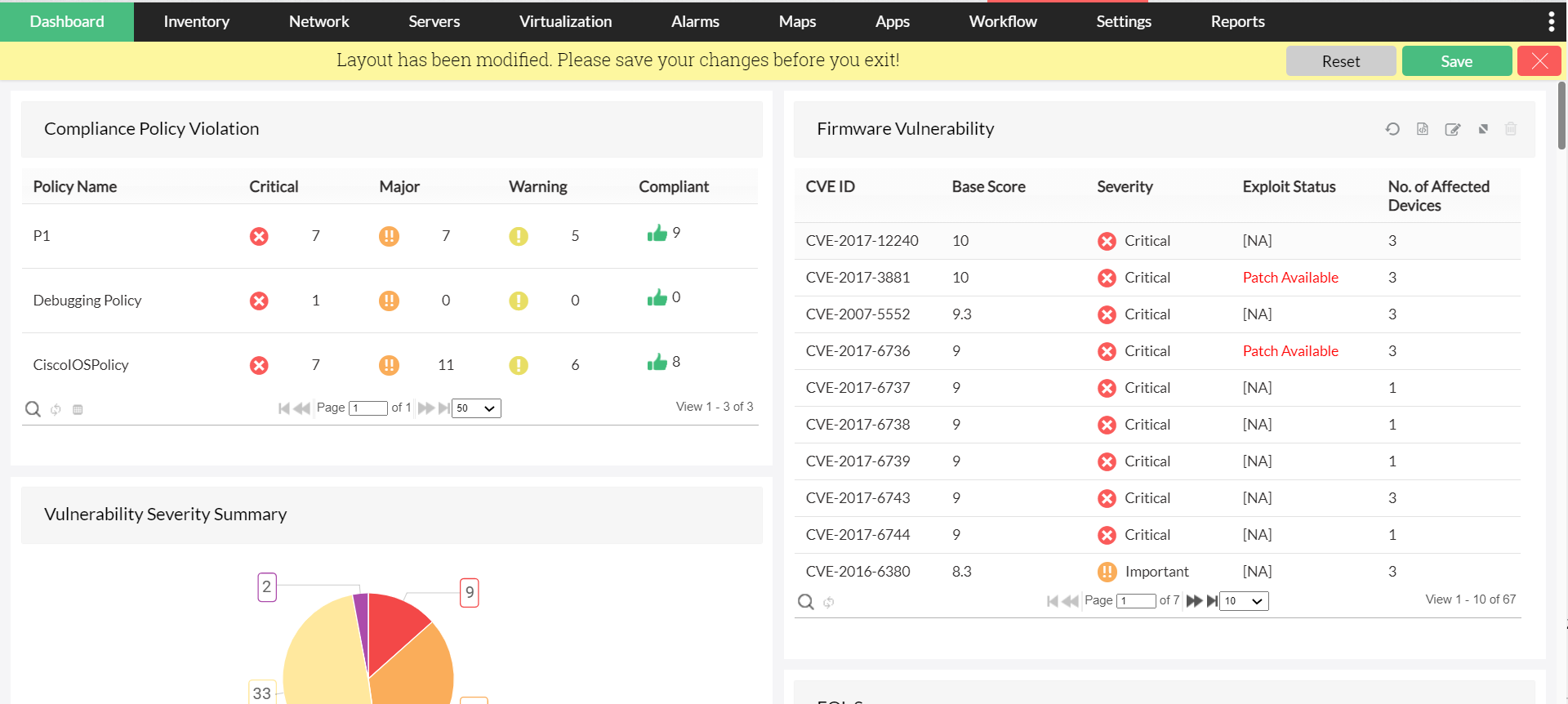 Network Provisioning
Network provisioning involves calculating the load handled by the network and future demands based on the current network trend. It also involves keeping resources in reserve so that when a need arises, it becomes easier to handle. A network control software would enable you to identify network trends and effectively provision your network. 
OpManager network management solution helps in resource management with:
Capacity Planning Reports – OpManager is pre built with 150+ network management reports that provide information on device upgrades, bandwidth usage, disk & memory utilization etc. These reports help in identifying network trends and assist in resource allocation.
IP Address and Switch Port Management – OpManager's IP address & switch port management console, helps in managing IP addresses and switch ports for space and availability. OpManager tackles IP and switch port conflicts, audits user access and provides prompt notifications on status changes.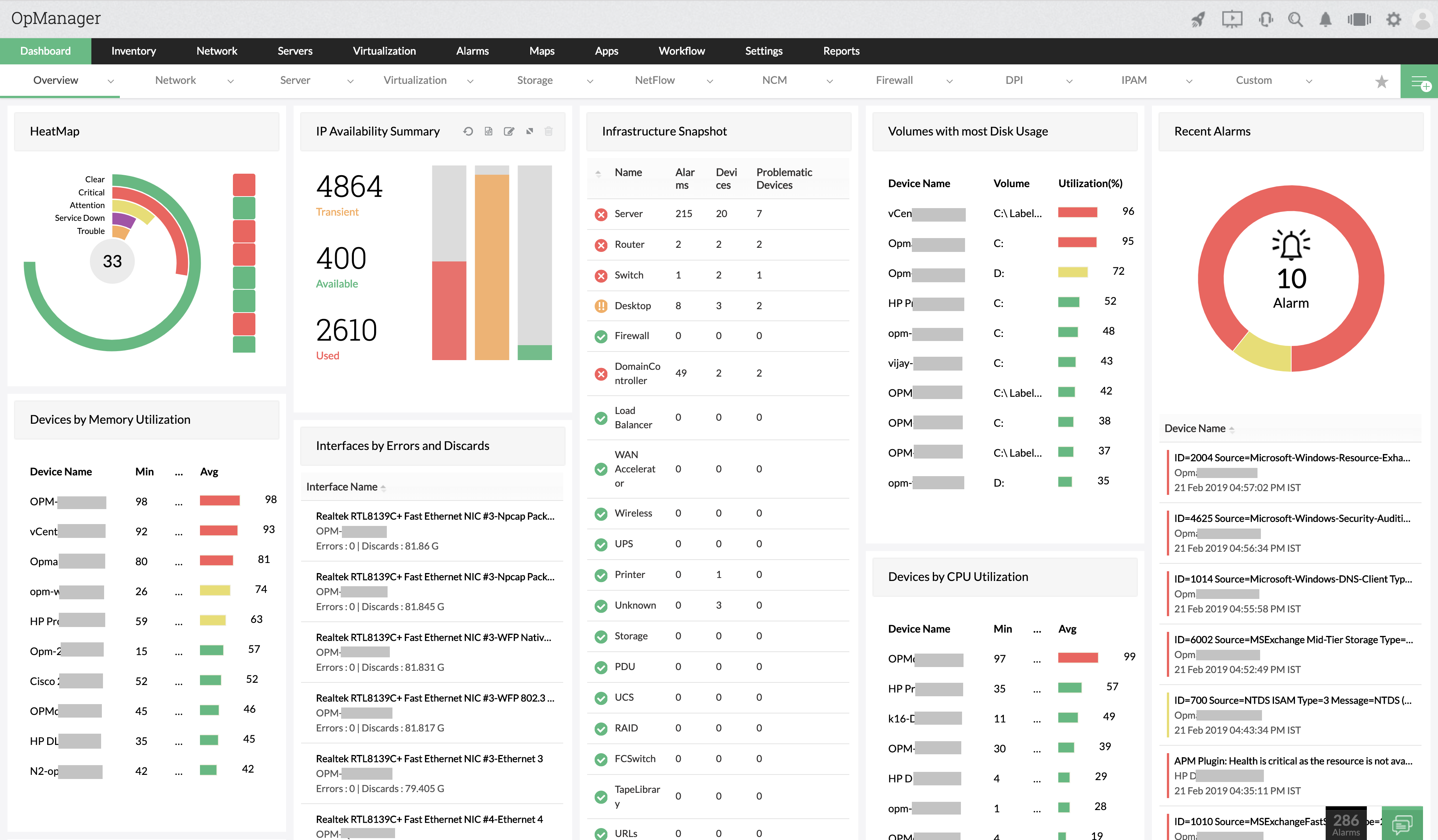 Workflows in network management:
Enterprise network management involves on-demand and scheduled tasks such as testing network faults, executing backup scripts etc. Most of these tasks are repetitive and time consuming. Automating such management tasks will help admins and technicians save a lot of time and effort. Automated network management also helps you reduce your workforce and enable implementation of simple automated troubleshooting techniques for your network.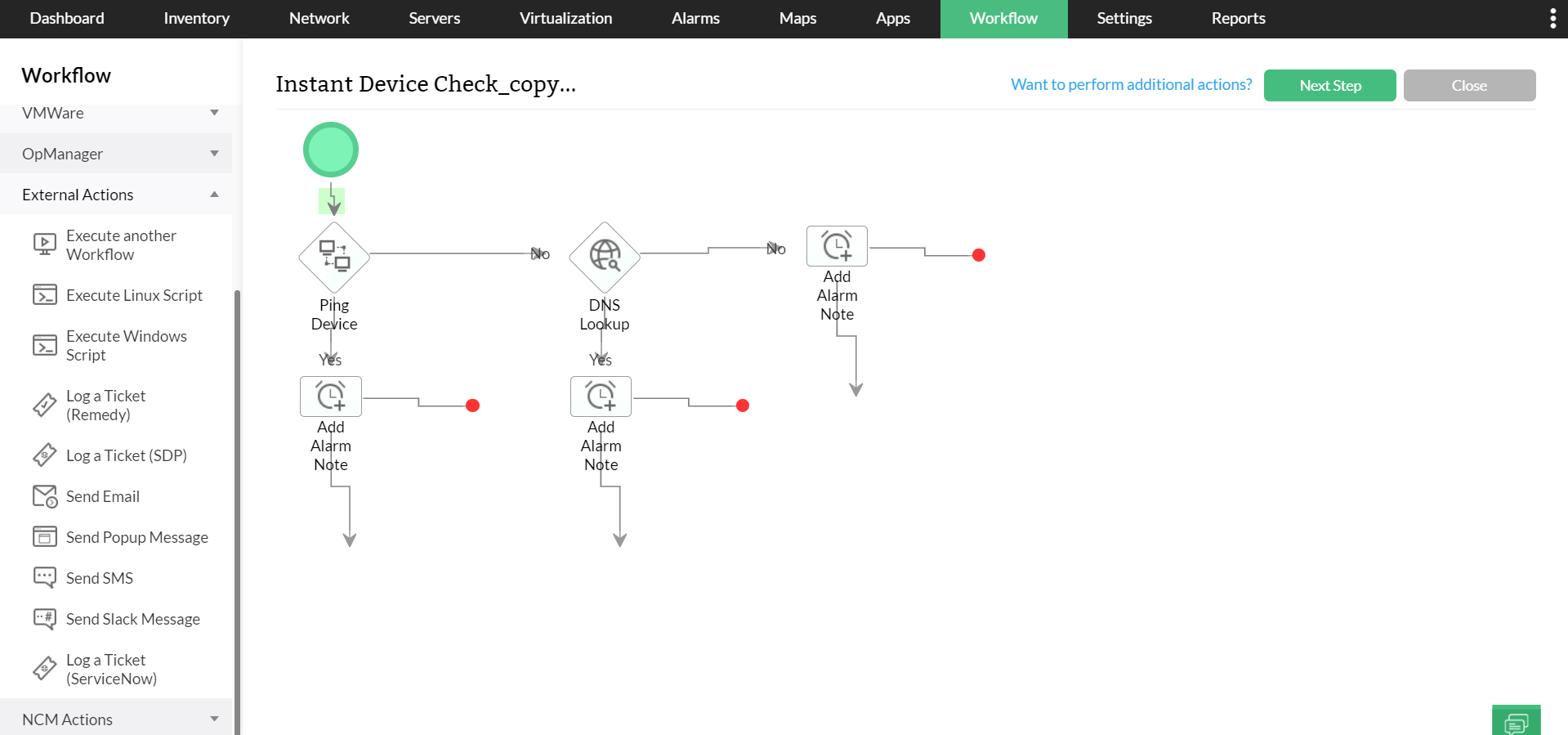 For example, whenever you get a device down alarm, you will ping the device and do a traceroute to know if there is any packet loss, where exactly it is happening or if the device is actually down. These repetitive tasks can be automated with workflows.OpManager, the trusted network management and monitoring tool supports around 80 actions that can be automated with workflows.
Some of the network management tasks handled by OpManager workflows include:
Automatically stop/restart a service or a process.
Shutdown/restart/suspend a VM.
Execute scripts and verify its output.
Backup network configurations automatically.
Detect the last changes done on a network device.
Advanced configuration management with NCM Module:
Network configurations are important for any network, and any change in them adversely impacts the security, reliability and the quality of service provided. These changes are complex to manage and this increases multi-fold when done manually and requires robust network management configuration tools. According to an internal survey, nearly 50% of IT pros agreed that changes to network configurations led to outages several times a year. In these cases, a configuration management tool will be handy to prevent such changes in the first place or roll back immediately.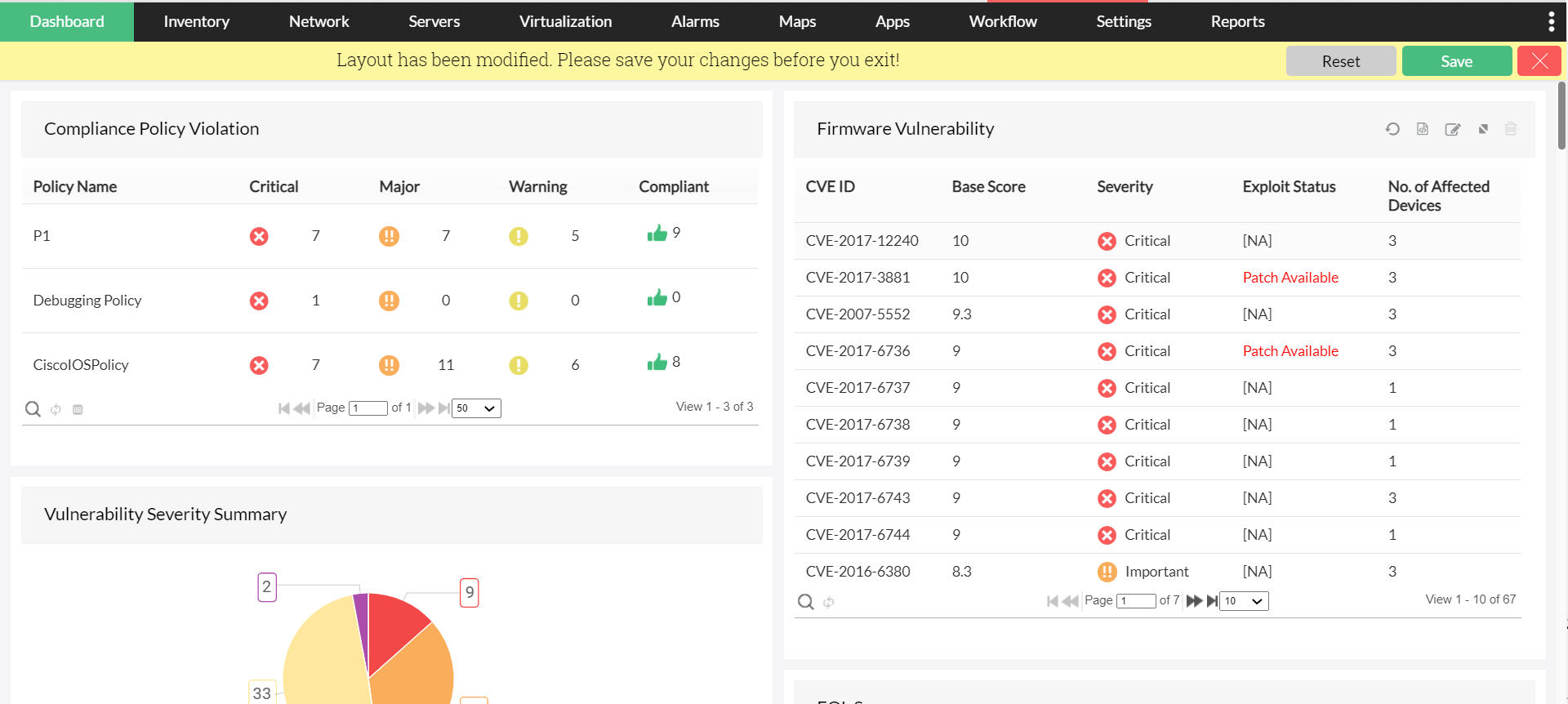 ManageEngine OpManager's network configuration module aids in network management by automating configuration backups, detecting network changes and ensuring that the compliance policies are adhered to. With approval based configuration changes, administrators can be aware of any external network changes by allowing or denying network users to make changes to device configurations. 
NCM add-on assists in network management by:
Automating configuration backups.
Discovering and remediating network policy violations.
Executing scripts automatically to combat unauthorized network changes.
Visualizing trends in device configuration changes.
Verifying configurations/device for PCI compliance.
server management
Server management is defined as the act of managing server infrastructure and overseeing its performance by continuous monitoring using various tools or methodologies. Server performance management helps in increasing agility of business-critical applications and aims at optimizing the performance of both physical and virtual servers.
Server management with OpManager:
With many of today's applications and services moving to a data center, virtualization and server consolidation are creating new management challenges. OpManager provides IT administrators, a single management console for in-depth visibility and control of both physical and virtual servers across Windows, Linux, Unix, VMware, Hyper-V, Nutanix and Xen server platforms.
OpManager assists in server management by:
Monitoring in server management:
Monitoring servers proactively for availability and response time is vital for server management. OpManager, the trusted network and server management software, actively monitors over 300 critical server performance metrics like CPU utilization, disk utilization, partition-wise memory utilization etc. along with monitoring services and processes. OpManager's fault monitoring includes threshold based alerts and notifications for server's availability and health.
OpManager monitors the performance of
VMware ESX servers and Guest OS
Application servers, Active Directory, SQL and Exchange servers
Hyper-V servers
Xen servers
Nutanix assets (Clusters/Hosts/VMs)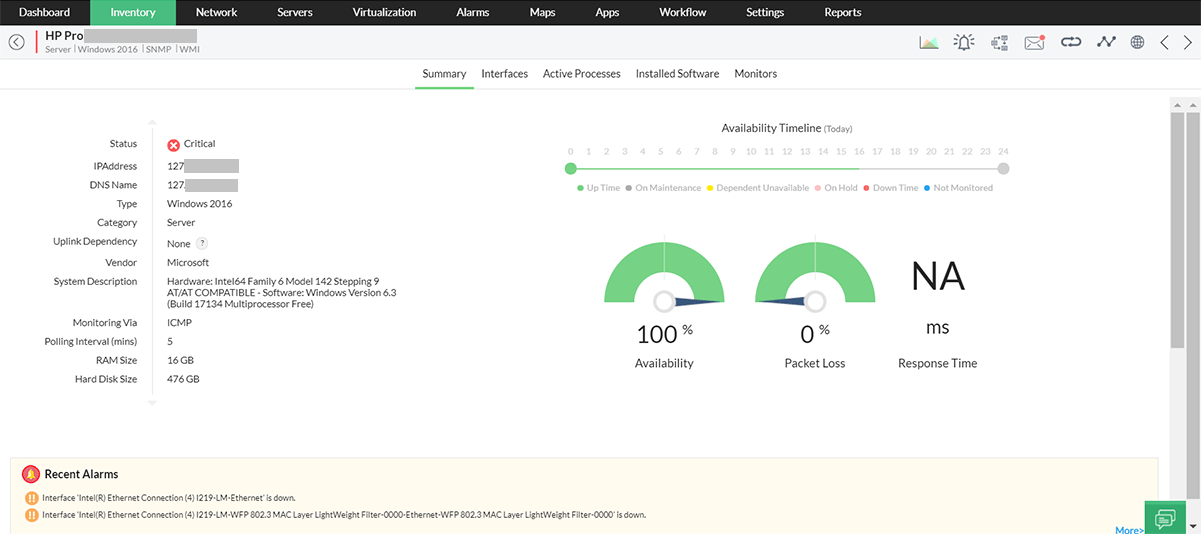 Troubleshooting in server management:
Server monitoring and management tools detect and troubleshoot server issues, that would otherwise impact businesses/end users. OpManager detects server performance problems like CPU busy time, low available memory etc. beforehand and sends intelligent and actionable alerts to remedy them. With workflows, it is possible to automate the troubleshooting process in OpManager. Advanced alerting that can even log a trouble ticket into an integrated helpdesk system ensures that you identify potential problems much before users could get affected. OpManager simplifies the entire process of server performance monitoring
Server management solutions in OpManager:
Here are a few server management tools in OpManager that help in troubleshooting first and second level server faults.
Ping and Traceroute: The ping tool in server snapshot pages can be used to ping the server directly to monitor its availability and uptime. Traceroute allows you to identify the network path and helps differentiate issues with the server or the network.
Remote Server Connection: Accessing servers remotely is useful for setting up a VPN, run a version control system, backing up data and other IT tasks. OpManager allows you to access servers remotely within its web client. You can either connect to the server directly using SNMP, WMI, Telnet/SSH credentials with the Remote Desktop connection or connect to a particular web service running on the server through HTTP or HTTPS connection.(IE only)
Downtime Scheduler: OpManager's downtime scheduler helps schedule maintenance activities on your servers periodically. This feature can also be extended to other network devices like switches, routers etc. During the scheduled maintenance period, OpManager intelligently ceases monitoring for that particular device.
Network Fault Management
Network Fault Management is all about staying current with what is happening in your network, be it an unforeseen outage or performance degradation. Detect, recover and limit the impact of failures in your network using OpManager, your 24/7 network surveillance. The powerful fault management capability of OpManager helps you isolate and resolve a fault in a wink.
Be the first to detect
Detect a fault from wherever you are! OpManager alerts you over an SMS and Email. Alerts are also viewed through Android app and iPhone app. The capability to instantly alert you of a network trouble ensures that no time is lost in resolving it.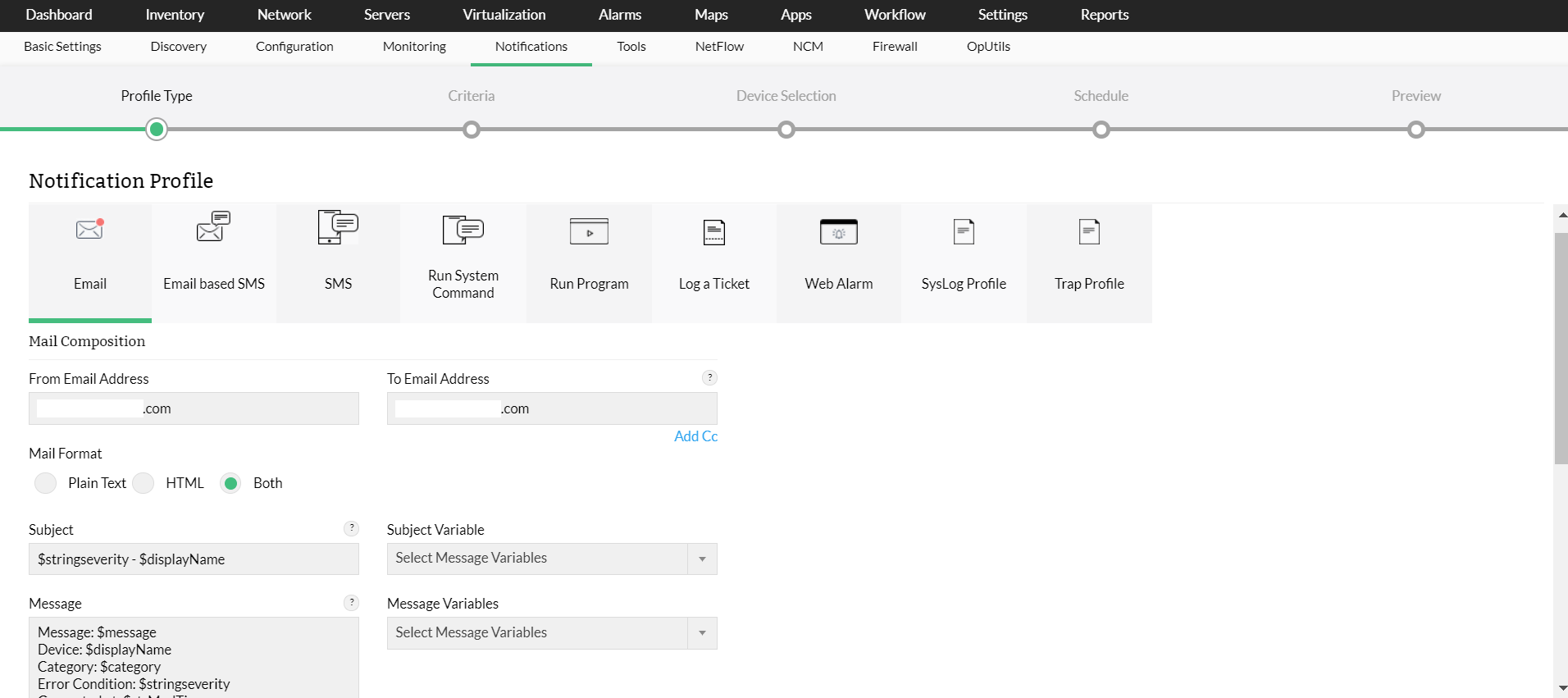 Isolate and troubleshoot a fault
Perform first-level troubleshooting to assess the damage and work out possible quick resolutions. Drill-down to the root cause quickly and speed up the resolution time using the interactive built-in web-based tools.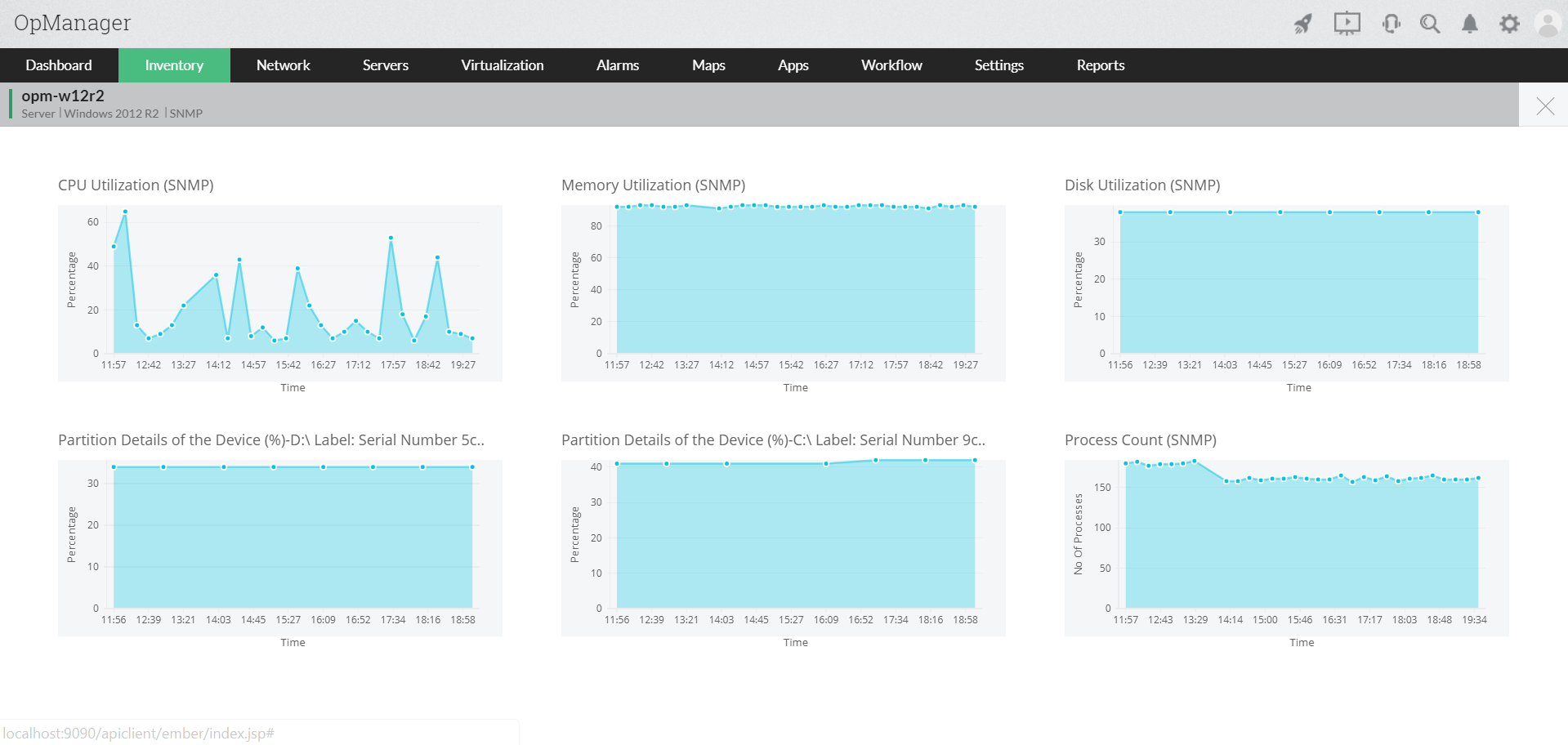 Application performance monitoring made simple
Applications Manager is an application performance monitoring software that provides deep visibility into the performance and user experience of your business-critical applications and infrastructure components. It helps you to isolate and resolve performance issues across your entire application stack quickly – from the URL to the line of code – with minimal overhead, before your customers are affected. Organizations of all sizes use Applications Manager to improve and automate IT and DevOps processes, ensure optimal end-user experience, and deliver better business outcomes.
Web application monitoring
Get deep APM with byte-code instrumentation. Monitor, optimize and troubleshoot application performance with the help of code-level insights, distributed traces, and more. Low overhead agent suitable for development, QA, and production environments.
Supports Java, .NET, .NET core, Node.js, PHP and Ruby applications.
Synthetic transaction monitoring
Create better customer experiences across your website by monitoring end user experience from multiple geographical locations. Simulate business-critical processes and multi-page workflows via Selenium based scripting of tests and optimize login forms, shopping carts and other applications.
Multi-cloud monitoring
Gain visibility into your private, public and hybrid cloud resources. Monitor workloads and troubleshoot application performance on cloud and virtualization platforms like AWS, Azure, GCP, Oracle Cloud and OpenStack. Detect service outages, application lags, server downtime, and other bottlenecks inside and outside your cloud environment.
Server Monitoring
Monitor and troubleshoot issues with server health and performance — on physical, virtual as well as cloud environments. Prevent server downtime, make sure server has enough resources, and plan capacity effectively.
Database monitoring
Easily identify and solve database issues that impact application performance. Agentless monitoring for a wide variety of databases – including RDBMS (eg:Oracle, SQL server), NoSQL (MongoDB), in-memory (memcached) and big data stores (Hadoop). Drill down to SQL statements, identify and monitor slow database calls.
ERP monitoring
Improve the overall performance and availability of popular ERP solutions like SAP, Oracle EBS, Microsoft Dynamics CRM & AX, and Siebel CRM. Identify, understand, and predict performance issues and bottlenecks up front with ease.
Website monitoring
Monitor the performance of your website as well as internet services like HTTPS, DNS server, FTP server, SSL/TLS certificate, SMTP server, POP server, URLs, REST APIs, SOAP web service, and more.
Automated discovery & dependency mapping
Auto-discover applications and services and map data into a real-time dependency map which shows the relationships and dependencies for all entities. The dependency map adapts dynamically as your environment changes. Automate remediation through integration with CMDBs.
AIOps assisted smart alerts
Get to the root cause of issues precisely and quickly and avoid alert storms. Track incidents on your favorite third-party service such as ServiceNow and Slack. Automate actions to enable self-healing and to distribute workload for scaling in dynamic environments.